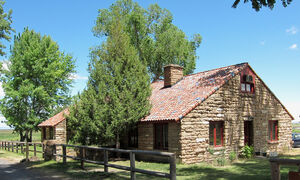 On January 2, 2016, armed militia members occupied the Malheur National Wildlife Refuge headquarters and visitor center. Readers of Fark.com responded in their typical fashion.

Help restore the refuge Friends of Malheur
Backstory
Edit
'We Are Going to Light Up the Whole Country on Fire': The Arson That Led to the Oregon Militia Standoff

Eastern Oregon Ranchers Convicted of Arson Resentenced to Five Years in Prison Dwight Lincoln Hammond, Jr. and his son Steven Dwight Hammond were resentenced to five years in prison for arsons they committed on federal lands.
Occupation threads
Edit
Branch Dildonians - The Occupation
These will be broken up into separate pages, probably by week
After the occupation threads
Edit
Branch Dildonians - After the Occupation
These will be broken up into separate pages, probably by week
Here are the Gadsden flags of the Branch Dildonians
Edit
Videos from the occupiers, supporters, and ridiculers
Edit
Including the famous DefendYourBase youtube channel
Branch Dildonian Videos
operas, songs, music and ditties
Edit
Thread Badges
Edit
Branch Dildonian Thread Badges
Cast of Characters
Edit